D199, also known as 'Spamcan' is a rude diesel who came on trial with D7101, later known as Bear.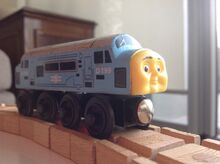 Diesel 199 was built in the early 1960s at Derby Works. In 1967, he came on trial to Sodor with another diesel engine, Diesel 7101. D199 soon made himself an enemy of the steam engines when he claimed that "steam engines spoil our image". Vulgar noises greeted this, until Duck and D7101 managed to shut up D199.
The next day, D199 ironically failed with a train of oil-tankers at a signal box, blocking the crossing. Henry, whose regulator had already jammed, came to help. However, after D7101's ejector leaked, making him unable to pull his passenger train, Henry was asked to help him as well. Henry, with some help from 7101, was still able to move and bravely pulled 199, the oil-tankers and the passengers to the next station. The Fat Controller was not impressed, and Diesel 199 was soon sent home in disgrace. However, his companion Diesel 7101 was given a second chance.
Appearences
Edit